[et_pb_section admin_label="section"]
[et_pb_row admin_label="row"]
[et_pb_column type="4_4″][et_pb_text admin_label="Text"]Check here for events all over Beaver Island (including the BIC Center). We also have agenda, weekly and monthly views of the calendar as well as and agenda view of events at the BICC.  Looking for WVBI's program schedule? Check here.
Want to see your event here? Use the handy "+Post Your Event" button in the upper right hand of the calendar below.  It's that friendly orange one down there. More information on posting your event is here.  Or, send and email with the details to calendar@wvbi.net. Be sure to include a description, the date and time, any cost, whether reservations are necessary and the name, email address, postal address and phone number of a person who can be contacted for additional details.  All of this information may be included in the calendar entry we post.
Want to put this calendar on your website? We are happy to share. You can use our RSS feeds or we can send you code to embed the calendar as a widget on your site. Just send us an email at calendar@wvbi.net for instructions.[/et_pb_text][/et_pb_column]
[/et_pb_row]
[/et_pb_section]
Jul 15 @ 11:00 am – Jul 17 @ 5:00 pm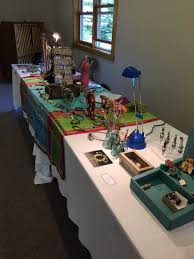 11:00 am
A Musuem Week Classic! A fine art show featuring Beaver Island Art & Artists.  A portion of sales are donated to the Beaver Island Historical Society.
Oct 3 @ 11:00 am – 3:00 pm
11:00 am
A fabulous featuring of arts, crafts and packaged goodies from Island and Island-related artisans! Everything from hand-thrown functional pottery to hand-blown glass beaded jewelry; fur, bone and leather accessories to watercolor prints and textile collectibles; precious metals and stone accessories to sweet-smelling candles and relaxation materials. You'll find something for everyone–and everyone on your gift-list.Tickets:[...]